History
In 1911, Jean Dischamp, son of a farmer, took over a cheese store and aging cave in Clermont-Ferrand. The seller agreed to train the new owner in the art of aging Saint Nectaire.
After WWII, Dischamp's son, Paul, grew the business by developing the trade of all Auvergne cheeses.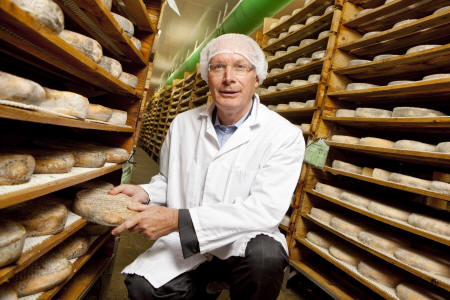 Today the third generation, represented by Jean-Luc Dischamp continues the tradition of "Maître Affineur" by aging the five PDOs of Auvergne: Fourme d'Ambert, Cantal, Salers, Bleu d'Auvergne and Saint Nectaire.
Dischamp's cellars are located in Sayat, a small village in the foothills of Auvergne Volcanoes Regional Park.
Auvergne, the last Frontier of France
The French describe the Auvergne region as "la France profonde" (deepest France), a place where the country's values, represented by a closeness to the land and the pleasures of foods, are thought to be enshrined. Auvergne borders encompass a vast mountain range of extinct volcanoes called Massif Central. They are covered with shaded green forests and pastures in which a wealth of flora thrives thanks to a pristine terroir which includes rich fertile soil and an abundant supply of pure mineral water. There indigenous cow breeds produce top-quality milk. In those sparsely populated mountains exposed to harsh winter climates there is a long tradition of dairy farming. Cheese is regarded as a staple food and is a cornerstone of Auvergne's cuisine served today in most Parisian Bistros. As early as the 1st century BC, the Romans were impressed by the quality of local cheeses and took them to Rome for the enjoyment of the wealthy citizens. Today, Dischamp cheeses are finally available to the U.S. consumers.
Auvergne with its rustic and traditional way of life is the very symbol of eternal France,
peaceful and cheese-producing.