History of the first Comté Affineur

It was in 1860 that Alix Jacquemin founded his Swiss cheese business. Quite soon, he wanted to break away from the traditional practice of storing cheese in barrels (these barrels contained about ten cheese wheels separated by false bottoms of thin spruce strips) and he was the first to innovate rational methods of refining in cellars. And so, with the help of a coppersmith from Lons-le-Saunier, he designed an oven with a reservoir producing steam that could be sent inside or outside of the cellar as wished. This was the beginning of the Montmorot ripening cellars.
In 1886 Louis RIVOIRE married the Alix JACQUEMIN's daughter and this started the partnership that kept alive the memory of its founders, Louis RIVOIRE and his wife developed the business and increased the technical equipment of the ever growing cellars, building a thermo siphon heating system inspired by the greenhouse heating system of the city of Lyons.
Five generations later, the Rivoire family, along with 400 milk producers, 25 cheese makers three head cellarmen and 35 management personnel and salesmen successfully produced 110 000 Comté for worldwide distribution every year.
Rivoire-Jacquemin: Special know-how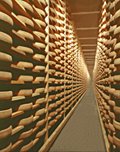 Since 1860 Rivoire-Jacquemin has developpped professional expertise through quality selection. Each Comté cheese wheel weighs an average of 88 lbs and requires 105 gallons of milk. They know the exact origin of each cheese, the farmer who produced the milk, the cheesemaker who made it, the special terroir sheltering each of those farms. Thanks to those long relationships they can select only the best Comtés for aging.
A first rate master ripener supervises each and every wheels as tradition demands. Each Comté wheel entering into the Rivoire-Jaquemin cellars gets a royal treatment with constant care: salting, rubbing, turning over, checking aging and holes. Rivoire-Jacquemin is the only Comté affineur rubbing Comté with Guérande salt.
In the 38 cellars only Spruce planks from Jura are used for the shelving. State of the art air conditioning technology allows cellar managers to fine tune temperature and humidity to optimize ripening respecting the great cheese traditions.
After four month, the most thorough grading is done. Cheeses with a grade higher than twelve can be marketed under two designations:
COMTÉ EXTRA: grade higher than 15, recognizable by green marking.

COMTÉ: grade between 12 and 15, recognizable by a brown marking.

Cheese graded below 12 are used as ingredients for ready-cooked dishes.
Some cheeses, destined for an even more promising future, will return to the shadowy light of the cellars to be refined even more - for up to 30 months. These sumptuous cheeses are then bought at great prices by true Comté lovers. Finally, Time is key to success. Affineur prefer using the slower traditional method, requiring a great know-how rather than favoring a larger productivity which leads to a standardized product with no personality.
This creed, to make the best Comté cheese in the world, has been rewarded by the French for decades at the famous Concours Général Agricole.
Comté : a DOP with Serious Regulations

Comté is one of the first cheeses to have been given a label of origin. In 1958, when its development was threatened by the extension of production to neighboring regions (notably Burgundy), the Franche-Comté obtained by decree a delineation of the area producing Comté cheese corresponding more or less to the Franche-Comté region
Jura terroir, a land of character
Comté cheese can only be produced along the Jura Mountain range. This special region is unique with a rich cultural heritage and diverse landscape. Pasturelands bordered with low stone walls, long chalk plateaus surrounded by pines, swales with rich aromatic grasses, rocky walls overlooking picturesque valleys: that can't be found anywhere else in the world. Likewise, each wheel of Comté is distinctive, reflecting not only the region's diverse terroir, but also its history and culture.
Rivoire-Jacquemin Comté great brands
In 1907, Louis RIVOIRE wished to give an identity to the cheese wheels leaving his cellars. He decided to use the name "la vache" (the cow). The great brands of RIVOIRE-JACQUEMIN Comté are: Vache Rouge, Vache Bleue, Vache Verte, Chalet Comtois, Comtois, Montciel, Riv-Jac