The production and aging of Comté is founded on the ideas of partnership: between the earth and the farmer, the farmer and the cheesemaker and the cheesemaker and the affineur. All are invested in the end result: the highest quality Comté cheese.
Comté is made in a unique manner: milk is delivered from the farm to fruitières daily, where cheese is made. It is then passed on to affineurs who age the cheese a minimum of 4 months, up to several years. Each person along the supply chain is paid a premium for high quality cheese, a business model pioneered by Alix Jacquemin in 1860. In 1886 his daughter married Louis Rivoire. To this day, the name Rivoire represents highest quality Comté. Five generations later, the Rivoire family, along with 400 milk producers, 25 fruitières, and 3 head cellarmen, produces 110,000 Comté wheels for worldwide distribution every year.
At the core of Rivoire-Jacquemin's business is an unparalleled expertise of quality selection and traceability. We know the exact origin of each cheese, the farmer, the maker and the micro-terroir. Breaking away from the traditional barrel ripening process, Alix Jacquemin invented the cave ripening. Today, our first rate maître affineur (cave master) supervises each and every wheel with constant care: salting, rubbing, flipping, and monitoring the aging process.
Time is key to our success. Rivoire Jacquemin prefers using the slower traditional method: requiring a traditional know-how, unlike our competition who favor large scale production and a standardized product with no personality.
Rivoire Jacquemin is the only affineur that rubs Comté with Guérande sea salt. In our 38 cellars, we only use spruce planks from Jura to shelve our wheels. State of the art thermostat technology allows our cellar managers to fine-tune temperature and humidity to optimize ripening. We grade each cheese to determine which are for sale aged 4 to 6 months and which are destined to be aged for up to 30 months.
Cheeses
Comté
An alpine cheese similar to Gruyère but made in the French Jura. Flavors vary in intensity based on the cheese's age, but notes of apricot, hazelnuts and toffee are persistant. A wonderfully versitile cheese. Great for snacking as well as for cooking, it also pairs well with almost any wine.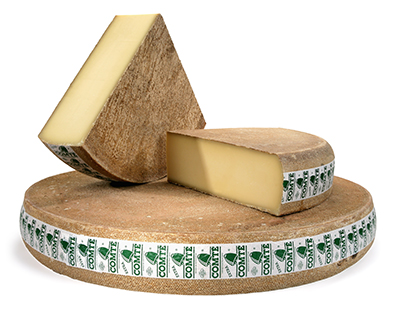 Hand-Selected based on your Flavor Profile Based on the flavor profile that you choose, we can hand select cheeses that meet your customer's tastes.
Séléction:
aged min. 6 months
Tradition:
aged min. 8 months
Révélation:
aged min. 10 months
Grand Affinage:
aged min. 12 months
Weights Available:
»» full wheels, 80 lb
»» 1/4 wheel, 21 lb
»» 1/8 wheel, 11 lb
»» 7 lb wedge
»» 5.5 lb wedge
»» 4 lb wedge
»» 2.6 lb wedge
»» 7 oz retail packs
Morbier
A semi-soft washed rind cheese from the Jura, recognized commonly by the line of vegetable ash through the center of the cheese. Originally, cheese was made in two parts: the bottom half with morning milk, the top half with evening milk. The vegetable ash was dusted over the morning cheese to keep the flies away. Creamy and relatively mild, with some beefy notes and nutty finish. weight: 14.3 lb